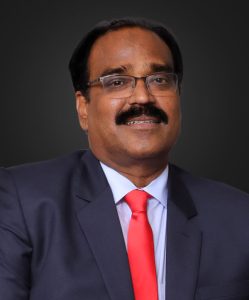 Dr. P. P. Reddy
His 2 decades of practice and understanding of micro aspects of dentistry has helped in transforming the concept of cosmetic dentistry in to new dimensions. Today he is widely recognized as a top-notch aesthetic dentist in this part of the world. His holistic approach to cosmetic dentistry has earned FMS Dental, best aesthetic clinic of the year at the London IAE Awards in 2018.
Prof. Dr. P. Parthasarathi Reddy, the visionary Founder Chairman and CEO of FMS Dental Hospitals Pvt Ltd, is widely credited as being one of the architects of introducing true MULTISPECIALITY DENTAL CARE under one roof. In India, Dr. P. P is known for his extreme desire to succeed. Innovation, persistence, dedication and devotion to his work are some of the characteristics that best describe him.
His vision of bringing world-class dental treatment within the economic and geographic reach of lakhs of patients was the genesis of FMS Dental Hospitals. The first FMS Dental opened its doors in 1993, and heralded the multiSpeciality dental healthcare revolution in the nation. In just 26 years, he founded, developed an empire in Dental Health and Education in India, which are built upon the goals of continuous improvement. Dr. PP 's vision, acumen and idea of uncompromised quality, motivated numerous individuals in India to set forth, emulate the model and taking high quality dental care closer to their patients.
Leading from the front, he takes his whole team to deliver the holistic dental care for the patients. He has undergone various trainings in the field of ceramics, CAD-CAM and other laboratory advanced procedures. His involvement in the lab and upgrading the materials and technology helps the organization in producing the best replacements for the patients. He also has attended various cosmetic dentistry training courses including Nemotec & Digital Smile Designings etc. His vast experience in the field of cosmetic dentistry has changed thousands of people's smiles and lifestyles. He has been attending the Dental Implantology courses from the year 1995. In the year 2000, he has undergone intensive training with Nobel Biocare & in 2006 had advanced training in all-on-4 protocol. FMS Dental Hospitals, recognized all around Asia-Pacific as the largest Corporate Dental Health Care centre; is, without doubt, a case of success. Under Dr. PP's leadership, this hospital, exclusively dedicated to provide oral health treatments, is now an international reference, not only due to its recognition as a world class Dental Hospital, but also because of its role in Dental Education in the form of Sri Sai College of Dental Surgery. Today, FMS makes its presence in top 13 areas in the twin cities of Hyderabad and Secunderabad. Driven by his ambition and entrepreneurial spirit, Dr. PP invested in numerous areas, such as dental laboratory practice, dental education and, soon, in the area of esthetics and Cosmetology. His interests towards the holistic dentistry made him participate in numerous national & international conferences, workshops in the last 2 decades in the fields of Dental Implants & Cosmetic Dentistry. This made him up to date with new trends in dentistry and upgrade himself and infrastructure that lead in strengthening his team of doctors. His clinical practice mainly focuses on cosmetic dentistry, full mouth rehabilitation and Implant Prosthetics.
CAD-CAM Training
DSD
DTR & Occlusal Analysis
All-on-4
Chief Cosmetic Dental Specialist at FMS Dental Hospitals, specialized in Digital Smile Designing (DSD)
Dean, Sri Sai College of Dental Surgery, Vikarabad, Andhra Pradesh, India.
Professor & Head of the Department, Department of Preventive & Community Dentistry, SSCDS
CEO, FMS Dental Hospitals, Hyderabad, India.
Chairman, Sai Balaji Educational Society, Hyderabad, India.