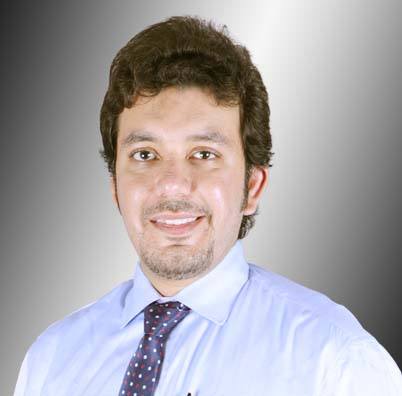 Dr.Ashank Mishra
Faculty LASER Dentistry
As a specialist in Periodontics, Dr. Ashank's expertise goes beyond minimally invasive gingival surgeries, into LASER Dentistry, Bone regeneration in dental Implant treatments, Clinical Research and teaching programmes at Sri Sai College of Dental Surgery, Vikarabad to graduates and post graduates.
He is one of the eminent members of the team of LASER Dentists at SSCDS & FMS Dental, by sheer virtue of excellence. After pursuing his Clinical Masters in LASER Dentistry from Vienna, Dr.Mishra plays the most crucial role in Clinical Research pertaining Soft tissue indications of LASERs. Passionate to excel in the field of laser dentistry Dr.Ashank Mishra has completed a Certificate course in LASERs from the World Federation for Laser Dentistry Asia-pacific.
Dr. Ashank Mishra completed his bachelor's degree from Panineeya Mahavidyalaya institute of dental sciences and research center Hyderabad and topped the university. Subsequently pursued his Master's in Department of Periodontics from Sri Sai College of Dental Surgery, Vikarabad. He has also completed advanced Dental Implant training affiliated by Nobel Biocare India.
His thirst for research made him complete his Diploma in Clinical Research from Catalyst Institute, New Delhi. Currently, Dr.Ashank Mishra is the Reader of the Department of Periodontics at Sri Sai College of Dental Surgery and Consultant at one of the niche practices in the country the "FMS Dental Hospitals".
Dr.Ashank has been a Guest speaker to many Dental conferences and seminars pan India. he has many national and international publications and journals to his credit.
List of international publications :-
Mishra A, Avula H, Reddy K, Avula JK. Efficacy of modified minimally invasive surgical technique (M-MIST) in the treatment of human intrabony defects with or without use of rhPDGF-BB gel – A randomized controlled trial- Journal of Clinical Periodontology 2013; 40: 172-17.

Treatment of dentinal hypersensitivity using LLLT and 5% potassium nitrate: A randomized, controlled , three arm parallel clinical study.

Evaluation of patient perceptions after labial frenectomy procedure: a comparison of diode laser and scalpel techniques. Accepted in European Journal of General Dentistry

Periodontal Management of Sturge-Weber Syndrome. Case Reports in Dentistry 2013

Awareness of lasers in dentistry among dental undergraduate students – A questionnaire survey

Management of ankyloglossia: Have lasers taken away the sheen away from scalpel? J of Dental Lasers; issue 2: vol 8.

Fibroepithelial polyp excision with laser and scalpel: A comparative evaluation. Int. J. Curr. Microbiol. App. Sci 2014; 3(8): 1057-1062.

Comparison of efficacy among various topical anesthetics: an approach towards painless injections in periodontal surgery. Accepted in Saudi Journal of Anaesthesia.

Comparison of labial frenectomy with conventional surgical technique and diode laser.
On-Going Research activities
Evaluation of Diode laser assisted new attachment procedure versus open flap debridement in the treatment of intrabony defects in chronic periodontitis patients : A randomized clinical controlled trial.

Laser therapy as an adjunct to one stage full mouth scaling and root planing in patients with chronic  periodontitis.

Comparison of diode laser assisted curettage with open flap debridement in the treatment of chronic periodontitis- a randomized control clinical study.

Comparative evaluation of smear layer removal and root surface roughness following Er:Yag , ultrasonic and hand instrumentation – an invitro study.

Comparative  evaluation

of diode laser assisted curettage with

modified

minimally invasive surgical technique in the treatment of

intrabony

defects - a randomized control clinical trial.