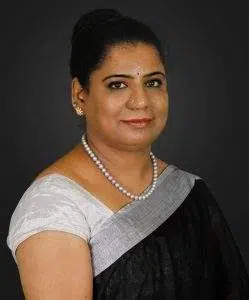 Dr.Shailaja Reddy
Faculty Implantology
Dr.Shailaja Reddy is a stalwart in the field of Oral Implantology. As an Implantologist, she has got a tremendous experience of successfully placing thousands of dental implants for more than two decades. Currently Dr.Shailaja Reddy is the head, department of Oral Implantology, at Sri Sai College of Dental Surgery. A renowned Dental Surgeon and certified Implantologist, Dr.Shailaja is a chief Implant consultant and Clinical Head at FMS International Dental center Hyderabad, India.
After completing her undergraduate, at Manipal Academy of higher education, she did Postgraduate Diploma in Oral Implantology, Manipal University. She underwent advanced training extensively in different implant protocols available around the globe. She is an expert at immediate loading implants, All-on-4 / All-on-6 Techniques, Zygomatic Implants, Pterygoid implants, Implant supported dentures and so on.
Dr.Shailaja has attended many international Dental Implant training:-
Extensively trained in Dental Implants by the Branemark Academy, 2001.

All-on-4 technique of Dental Implants at Malo Education, Lisbon, Portugal, 2008.

Zygomatic Implant Placement, Spain, 2008

Nobel Active Procedure, United States, 2009.

Bone grafting procedures for dental implants, France, 2010

Advanced grafting procedures in dental implants, London, 2011.
Beyond Implantology, Dr.Shailaja is certified in various other disciplines of dentistry like Esthetics/Cosmetic and LASER Dentistry. To her credit, Dr.Shailaja has many national and international publications in various journals of Implant Dentistry. At World conference of Nobel Biocare (Sweden) in Mumbai, she was a mentor and speaker for Oral Implantology . She has guided over hundreds of dental practitioners in Implantology at the Sri Sai College of Dental Surgery Campus, Vikarabad, Telangana India. She is an Honorable Secretary, Sai Balaji Educational Society and Director of FMS Dental Hospitals which is recognized globally for its Dental practice.